Welcome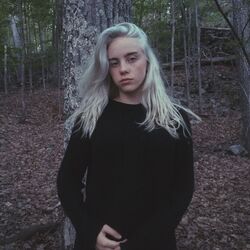 The Billie Eilish Wiki is the free encyclopedia and a collaborative community website that provides details of the American alt pop singer Billie Eilish, including you, can edit! We have topics about Billie Eilish, her music, and many more! Before editing, please read our policies below. If there are any problems, you can contact the administrators here.
Twitter
Discord
If you see this, your JavaScript might be disabled or DiscordIntegrator plugin isn't working. If the latter, please contact a wiki administrator.
How to Help
Currently, our goal is to create a comprehensive database about Billie Eilish. Considering that this wiki is currently small, here are a few things that you can do to help us out:
expand and add information to existing articles
create new articles (where necessary)
fixing grammatical and punctual errors
fixing errors within information
Even though we are extremely grateful to your contributions to the wiki, we have no tolerance for spam, false information or speculation on certain pieces of information. Please be considerate whilst editing.
BIOGRAPHY
Billie Eilish Pirate Baird O'Connell was born on December 18th, 2001, and raised in Los Angeles to a family of actors and musicians. She was home schooled along with brother Finneas O'Connell (Finneas would go on to be Eilish's songwriting partner and producer.) Billie joined the Los Angeles Children's Chorus at age eight, where she perfected her vocal abilities. At age eleven, Billie began writing and singing her own songs, taking after Finneas who was already performing his own songs with his band. In 2015, the siblings released two songs on SoundCloud, titled sHE'S brOKen (a play on words that reads "She's broken, he's okay) and "Fingers Crossed." "We had no intention for them," said Eilish later, saying that the songs were released "for fun and for our friends to listen to." In October 2015, Finneas informed Billie of a song he had been playing with his band titled "Ocean Eyes." Billie recorded the song and sent it to her dance teacher, who hoped to choreograph a dance to it.
"Ocean Eyes," the debut single under the name Billie Eilish, was released on SoundCloud in 2016 and was a viral hit, much to the surprise of Eilish and O'Connell. A music video was released on March 24th, 2016, and a video of Eilish performing a dance to the song was released on November 22th, 2016. That year, Eilish also released "Six Feet Under," which was not nearly as successful as "Ocean Eyes," but got attention from listeners and was a success among the small fanbase that Eilish had earned. "Ocean Eyes" was released worldwide through Darkroom and on November 18th, 2016 to positive critical reviews. "The song is pure pop; a ballad about longing for reconciliation with an ex. I can imagine it becoming a major hit," said Chris DeVille of Stereogum. On January 13, 2017, Eilish released an EP with four remixes of "Ocean Eyes" by the likes of Blackbear and Astronomyy. The Astronomyy remix took off immediately, becoming even more popular than the original track on Spotify.
Following the success of the "Ocean Eyes" remixes, Eilish released the single "Bellyache" on February 24th, 2017. Since its release, the song has been remixed by the likes of duo Marian Hill. "Bellyache" was produced and co-written by Finneas O'Connell, with a music video directed by Miles and AJ being released on March 22nd, 2017. Just over a week later, on March 30th, Eilish released the track "Bored" as part of the soundtrack to the television series 13 Reasons Why. On June 30th, 2017, Eilish released the single "watch" with a follow-up single, "COPYCAT" arriving on July 11th, 2017, along with the announcement of her debut EP, dont smile at me. Each Friday in July, Eilish would add another single to dont smile at me. It was in this manner that the singles "idontwannabeyouanymore" and "my boy" were released.
Eilish's debut EP, dont smile at me, was released on August 11, 2017. Four months later, Eilish released the single "&burn" featuring rapper Vince Staples on December 15, 2017. The song was cut from the original tracklisting after fan demand for "Bellyache" to make the EP. A week after the single's release, on December 22nd, 2017, the song was included on the re-release edition of dont smile at me. On March 30th, 2018, Eilish released "bitches broken hearts" after it remained a SoundCloud-only song for four months, as well as "lovely" featuring the American singer Khalid almost a month later on April 19th, 2018 as part of the soundtrack to the second series of 13 Reasons Why. Although these tracks wouldn't be added to any future full length projects, they were added to the Japanese and extended editions of dont smile at me on December 12th, 2018, almost a year after the release of "&burn".
 DISCOGRAPHY
ALBUMS
EPS
SINGLES
==AFFILIATES==