"Daddy" is an unreleased song by Billie Eilish and MadeinTYO. On December 28th, 2017, Finneas O'Connell posted a snippet of the song on his Instagram story. In June of 2019, MadeinTYO confirmed via Instagram that the song would not be coming out, however, the two may collaborate again in the future.[1]
Lyrics
[Snippet]
You make me sad boy
I look so sad, daddy

MadeinTYO
Bitch, [?] or a kisses (I would)
Wanna lay down with your missus
(Oh yeah)
Wanna hear your heartbeat (listen up)
When we're apart we [?]

Unknown
Cuz we don't really talk
I cry and you console
But you can't make me stop
Cuz I won't take control
You got me on all fours
The only play I roll
There's nothing I love more
Than doing what I'm told
Snippet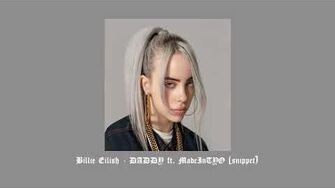 Trivia
Some of the lyrics were teased by Billie on instagram.
This song was listed on Billie's voice memos alongside three other new songs.
References