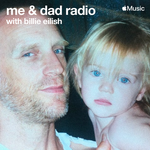 "Me & Dad Radio", stylized as "me & and dad radio", is a radio show by Billie Eilish and her father, Patrick O'Connell. It is being produced through Apple Music and began airing in May of 2020. The show's cover is a photo of Billie and Patrick when Billie was a child.
Episodes:
Season 1
"first try" - May 8th, 2020
"unusual" - May 22nd, 2020
"the mom edition" - July 3th, 2020
"from the start" - July 18th, 2020
"the finneas one" - August 7th, 2020
"the last one" - August 18th, 2020
"the holiday editions" - December 11th, 2020
Community content is available under
CC-BY-SA
unless otherwise noted.